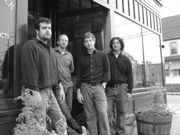 For the past twelve years, the members of Scalawag have been no strangers to the musical landscape of New England. It was during this time, while performing in bands such as Marty Keystone, Full Tilt Boogie, The Freeks, and The Makem and Spain Brothers, that the groundwork for this new group was being laid. After crossing paths and sitting in with each other at various shows, a musical friendship was born. In late 2002, they decided the time was right to begin this new collaboration.
For three months the band holed up in a south Manchester, NH house and began to work out what would become the Scalawag sound. They wanted to incorporate the rhythms of Sun Records recordings, the musical simplicity of Woody Guthrie, the lyrical storytelling of an early Springsteen , the loose grooves of The Rolling Stones, and the musicianship of The Band. When they emerged, Scalawag was able to create a sound that was reminiscent of all of these artists, yet unique unto itself.
In the four years following the formation of the band, Scalawag has been perfecting their live shows while constantly playing venues throughout northern New England. In between these performances, the members of the band have also been demonstrating their strong songwriting skills, penning dozens of songs, resulting in their debut release "Wheel on Steel"
Jeff Baumann - Drums
Brian Richards - Bass.Vocals.Banjo
Peter Gustafson - Guitar.Vocals
Liam Spain - Guitar.Vocals